MERCEDES-BENZ FASHION WEEK ISTANBUL
A Fashion Broadcast project brought on by Dazed Digital takes a look at fashion week in cities worldwide. Landing in Istanbul the project visits three select designers showcasing at Istanbul Fashion Week with a view of their aesthetic and processes. Exclusive interviews and videos with the designers show the inspiration of Istanbul as a cultural backdrop for their works.
OZLEM KAYA
Ozlem Kaya's collection demands your attention to the sharp tailoring of the pieces which make use of unconventional materials and experimental techniques. Gold lamé and shoulder pads lend themselves to Ozlem's 80's glam inspiration where a mix of street wear references show the designer's extensive range of vision. The collection isn't a quiet one, when talking to Dazed about her use of materials she says "I refrain away from using conventional ones… I try to find different and distinctive kinds." .
AYHAN YETKIN
Taking reference from a higher power, the image of the spiritual and the holy translate through Ayhan Yetkin's collection of shapes that act as an extension of the human form. A graphic collection of muted colours focuses on heavily sculptured pieces that "demonstrates the relationship between body and soul". The collection is a reflection of the process of transformation with silhouettes that nod to the future where he uses a dark theme across all pieces.
NIHAN PEKER
Hard to miss Istanbul as an architectural inspiration, Nihan Peker cites Miles van der Rohe's minimalist philosophy in a collection titled "Rohe's Walk". Clean and strict silhouettes take charge of the collection with subtle cut outs that put it slightly askew leaning away from the mundane. Incredible detailing come together with the highly minimal, Rohe's architectural work speaks volumes within the collection of crop tops, wide trousers and full length dresses.

TAKE A LOOK AT THE FILMS AND FULL ARTICLE
www.dazeddigital.com/fashion/article/15942/1/ozlem-kaya
www.dazeddigital.com/fashion/article/15941/1/ayhan-yetkin
www.dazeddigital.com/fashion/article/15940/1/nihan-peker
▲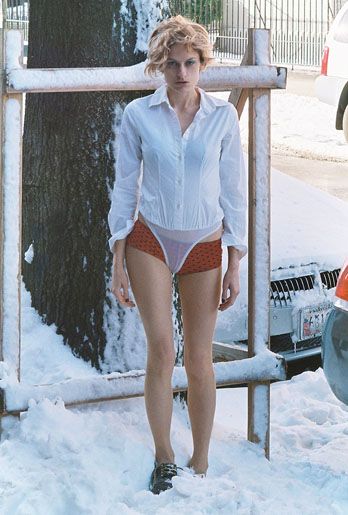 BRIANNA CAPOZZI
Subverting beauty artist and photographer Brianna Capozzi reinvents the female form with a series of provoking compositions.that engage and test conventional ideals of beauty. Based in New York City, Brianna's photography depicts women in new dimensions and takes a fresh approach to colour and styling.
Take a look at more from the series and more work:
▲